(Wiley -VCH Verlag GmbH & Co)
La Junta de Gobierno de la Real Sociedad Española de Química acordó aprobar la concesión del Premio a la Excelencia Investigadora RSEQ 2015 a la Dra. Concepció Rovira Angulo en reconocimiento a sus sobresalientes contribuciones a la Química, plasmadas en desarrollos conceptuales y estudios sobre materiales moleculares multifuncionales, en particular con propiedades electrónicas y/ó magnéticas.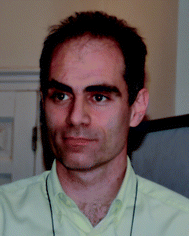 "Earlier this year, we announced that we would be launching a new open access journal, Heliyon, publishing sound science across all disciplines. We're excited to tell you about the next phase of this journey, as we launch the journal platform and open for submissions."
Jordi Faraudo from ICMAB is involved in this new journal as a member of the Editorial Board.
L'interès general per a promoure la paritat de gènere a la ciència i la tecnologia a la Comunitat Europea comença als anys 80 i culmina l'any 1999 amb la formació del grup de Hèlsinki amb l'objectiu d'examinar la situació de les dones a la ciència a 30 països.
AMIT es "una asociación no excluyente que pretende ser voz, foro de discusión y red de apoyo para todas las investigadoras y universitarias concienciadas de que tenemos que trabajar juntas".
Dr. Mariano Campoy-Quiles, from the Institute of Materials Science of Barcelona (ICMAB-CSIC), has been awarded a 2014 ERC - Consolidator Grant from the European Research Council.
Prof. Jordi Arbiol has been listed in the 2014 Top 40 under 40, Power List by The Analytical Scientist, as one of the Top 40 Analytical Scientists under 40 years.
Frontiers was launched as a grassroots initiative in 2007 by scientists from the Swiss Federal Institute of Technology in Lausanne, Switzerland, out of the collective desire to improve the publishing options and provide better tools and services to researchers in the Internet age.
Aziz Genç and María de la Mata receive the IFSM Young Scientist Scholarship Award at the International Microscopy Congress 2014 (IMC2014)! (September 7th-12th 2014), in Prague (Czech Republic)
The New Materials in Your Classroom Project has been awarded with the first prize of the Reach.Out! Competition Award from the E-MRS Spring 2014.
This E-MRS award is given to recognize outstanding contributions to materials research by a scientist under 40.
The award is reserved to researchers showing exceptional promise as leaders in the materials science having performed the research for which this prize is awarded while working in Europe.
The paper titled "Regenerable solid CO 2 sorbents prepared by supercritical grafting of aminoalkoxysilane into low-cost mesoporous silica" P. López-Aranguren, J. Fraile, L.F. Vega, C. Domingo (Vol 85, Jan. 2014, p. 68-80) has been selected as the inaugural "Featured Article" of 2014.
Prof. Jordi Arbiol receives the EU40 Materials Prize, awarded by the European Materials Research Society (E-MRS) in recognition to an outstanding contribution to materials research by a scientist under 40! The Ceremony will take place in Lille (France) in May 28th 2014